One on One with Oracle CEO: Shares It All
As per the latest industry report, Oracle has planned to release a full suite of internet based applications in preparation for their bigge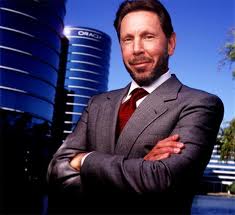 st step towards cloud-based business. CEO Larry Ellison declared the news at the D: All Things Digital conference.
"We're announcing on June 6 the general availability of the Oracle Cloud," Ellison said. "So for the first time, you're going to have the
complete ERP (Enterprise Resource Planning) and CRM (Customer Relationship Management) suite available in the cloud.
Ellison, who said the move will put Oracle far ahead of competitor SAP in cloud computing, said he no longer is resisting the name "cloud computing" as he once did.
Ellison also talked about several passion s including America's Cup yacht racing. He said that he played classical guitar and conf
essed he was once obsessed with Facebook, "but after three months, I recovered."
Conference co-host Kara Swisher asked Ellison what keeps him going.
"Life's a journey," he said. "I think we're all curious about each other. This is a journey of discovery about our own limits. I'm fascinated by technology. I enjoy the competition; I enjoy the process of learning. I don't know what I would do if retire. When I go sailing the problem is I'll look

Data Center Talk updates its resources every day. Visit us to know of the latest technology and standards from the data center world.Please leave your views and comments on DCT Forum around (and ask), 'Anyone wants to race?' I just like competing."