Emerson's Network Power's DCIM Suite Gets a Makeover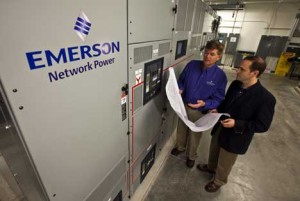 Recently, Emerson network power upgraded its aperture data center infrastructure management (DCIM) so that the suite could be virtualization aware.
The new module integrates the suite with virtualization management tools like those offered by Microsoft and VMware which merge virtual processes and physical hosts to avoid overloading and underutilisation.
Tom Waum, president of global sales at Emerson, said the new release gave data center managers tools to control virtual sprawl and make better spending decisions.
"It also underscores Emerson Network Power's commitment to this product as part of its path to the Trellis platform," he added.Trellis is Emerson's data center management platform. It incorporates aperture as well as Emerson's other DCIM tools.
This integration is expected to give the data center managers access to the various aspects of the physical and the virtual layers in the data center. This will ensure better planning decisions.
The other upgrades with aperture include the ability to assign specific resources within the data center to a particular department. This will provide better support. It also has a high level dashboard which provides snapshots of power, cooling and space efficiency metrics for quick performance assessments.
For more quality news and updates visit Data Center Talk.