How clean do you want to be? Outsource or not to outsource Cleaning of a Data Center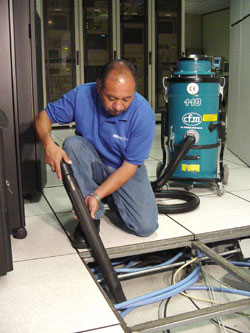 In order to maintain a good level of productivity and to ensure that the equipment can operate at maximum capacity, a clean working environment is important and especially in a data center. A clean working area also affects the productivity of your staff as they will be more motivated to work in clean working conditions. It also gives your potential clients and other visitors a good impression of the company as cleanliness and efficiency often go hand in hand. You need to ensure that your computer rooms, exterior hardware, tops of floor, underfloor plenum cleaning of data center are cleaned periodically.
Penny Saved is Penny Earned
Outsourcing the cleaning services of a data center can reduce costs in the long run and also increase the efficiency of the data center. Having a cleaning staff in-house will require investing in cleaning equipment and cleaning products on a daily basis as well as the necessary staff. Outsourcing the cleaning will eliminate the need for any extra investment as you only have to pay for the cleaning service, which includes the staff and all the equipment that is needed.
Cleanliness is a PROCESS, not a one-time task!
Go Tech!
Another important consideration in favor of outsourcing is that you can choose a specialized company with the necessary skills and experience to ensure that the job is done properly and efficiently and that the correct equipment will be used. A specialized cleaning company will have the knowledge as well as all the latest hi-tech equipment that is needed to keep the data center functioning to its maximum capacity that again minimizes maintenance costs for your company and can also help save resources on training the staff on how best to do the job as quickly and thoroughly as possible.
The specialized data center cleaning companies offer full insurance/liability protection for their clients. These companies train their cleaning technicians year round on the latest standards and cleaning techniques, and always use the right chemicals and latest approved critical environment protocols.
By outsourcing the cleaning of the data center to a professional service you can be sure that the data center will function more efficiently as the cleaning companies have a better understanding and insight into the cleaning and upkeep of the facility. It will also allow you and your team to concentrate on keeping the data center running smoothly without having to worry about the daily cleaning routine as this will be taken care of professionally and efficiently by the cleaning service. Using an outsourced cleaning service can reduce costs and improve operating efficiencies which will allow your company to save money, improve quality and free company resources for other activities.
What YOU can do
Choosing a specialized data center cleaning company is not enough, you need to insist that your staff  follows clean data center practices such as using tacky mats, no food/drink in facility, proper temperature/humidity, employees/vendors cleaning up after themselves thoroughly etc. to achieve a clean work environment.
You can also keep up to date with current trends and technology by visiting Data Center Talk where we keep you informed on important changes as they occur.