QTS's Data Center Becomes the Primary Data Center Choice for Web.Com
QTS (Quality Technology Services), charts as one of the leading providers of data center facilities and services and they recently announced that it has been selected by Web.com which is an online service provider, to take care of and manage the company's growing data center service requirements. The terms of agreement for the current relationship are not disclosed.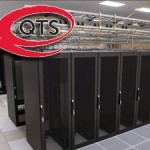 It has been reported that eight separate data centers all in North America support web.com and its various other owned brands. With this new partnership, web.com is looking to branch out by keeping the QTS data center as their primary option and will consolidate wit h facility near the company's Jacksonville, Florida, headquarters to retain disaster recovery capacity.
"As a company consistently growing both organically and via strategic acquisitions, scalability and flexibility are primary infrastructure needs," said Jane Landon, senior vice president and chief technology officer — Web.com. "We inherited a relationship with QTS when we acquired Network Solutions and Web.com has continued to appreciate the service and performance. QTS offered us a long-term agreement that gives us the flexibility we need, and the sheer size and scope of the QTS Atlanta Metro Data Center provides us room to grow."
"We're pleased that after a thorough review of possible data center options, Web.com has determined that QTS is the best solution to handle the constantly growing requirements of its many businesses," said Chad Williams, chief executive officer — QTS. "QTS will continue to build and develop the hardened, world-class data center space needed by today's demanding customers. We'll continue to provide our services at scale for growing companies like Web.com who are looking to mitigate the risk associated with forecasting their data center needs."
Data Center Talk updates its resources everyday. Visit us to know of the latest technology and standards from the data center world.
Please leave your views and comments on DCT Forum.