Tax Relief for Data Centers Approved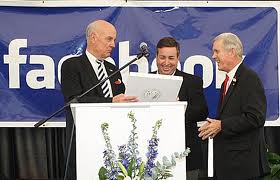 Two things that South Carolina has in plenty – cheap land and cheap power. These were the  advantages that Facebook was looking for to build a new $450 million data center. However, this new data center is not in South Carolina. It is in Forest City, North Carolina primarily for one reason; the state does not tax Facebook's electric bill.
To overcome this competitive disadvantage, the house and senate have passed a bill that would exempt data centers from sales tax on electricity if they invest at least $50 million and hire a minimum of 25 people. Apart from electricity, computer equipment, hardware and software purchases would be dispensed from the state's sales tax. The hopeful result is that companies like Facebook, Apple and Goggle will build data centers in South Carolina which is viewed by a certain faction of people as the successor to the state's disappearing textile industry.
"Our economy has changed and become so dependent on the things that are in 'the cloud,' not necessarily bricks and mortar," said attorney Ray Jones, a board member for the S.C. Economic Developers Association. "Data centers have become very important because they are the cloud."
North Carolina has exempted data centers from sales and use taxes since 2007 which had resulted in eight companies including American Express, Apple, AT&T, Facebook and Google announcing plans to invest more than $3 billion on data center projects in the state. So successful was North Carolina that Virginia, considered to be one of the data center capitals of the country, passed its own set of incentives in 2009 to compete with the Tar Heel State.
"Western North Carolina has done very well because they have the electrical infrastructure in place to support textile mills – another industry that used to be there but has largely left," Miller said. "If (South Carolina) wants to attract data centers, they will have to level the playing field with the states around them."
South Carolina has just one major data center, Google, in Berkeley County.
Data Center Talk updates its resources every day. Visit us to know of the latest technology and standards from the data center world.
Please leave your views and comments on DCT Forum