Stream Data Centers to Build 72,500-Square-Foot Houston-Area Facility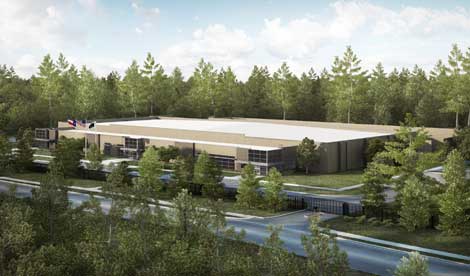 Data center operator and developer Stream Data Centers has acquired 7.6 acres of land in the Houston area, where it plans to build a new, 72,500-square-foot data center from the ground up.
According to Stream Data Centers' announcement this week, its new Stream Private Data Center (or PDC) will be located north of Houston in The Woodlands, Texas.
The data center will initially deliver 4.5 megawatts of critical power with the ability to easily expand the critical load to 9.0 MW with all necessary conduit and pads in place. The raised-floor area will be divided into three independent 10,000-square-foot Private Data Halls, and provide dual power fed from two separate substations.
The carrier-neutral facility will include redundant telecommunication rooms serving each data hall and access to multiple providers.
Stream is building the facility using accredited construction and design practices required for LEED Gold Certification. It will also be able to withstand sustained 146-mph straight-line winds, according to Miami-Dade County Building Code Standards.
"Stream's Private Data Center in Houston continues our Texas expansion and provides an excellent addition to our portfolio," stated Paul Moser, co-managing director of Stream Data Centers. "The demand for data center space in Houston is strong and this ground-up, purpose-built facility will provide enterprise users with an attractive wholesale option in Houston's premier master-planned community."
The Houston market is one of the largest metropolitan areas in the country with the world's highest concentration of energy companies, as wells as robust healthcare and aeronautical sectors.
This latest carrier-neutral facility follows Stream Data Centers' acquisition of a data center near Denver, CO, less than six months ago. Originally built and commissioned in 2006 by a Fortune 500 insurance company, the 29,500-square-foot single story building includes 10,000 square feet of raised floor and 7,500 square feet of disaster recovery office space.
Stream Data Centers will break ground on its Houston Private Data Center in February and the facility will be fully-commissioned and ready for occupancy in December 2012. Stream is developing another Private Data Center located in Richardson, Texas, which will be complete in May 2012.
Please leave your views and comments on the article in the Data Center Talk Forum.