"In Service Software Upgrade" : Vital Tool
"I have a mission critical switch and I had an issue which cause problem in my production data center, I think, I need to upgrade my switch code software. I cannot ask for outage window from the clients. What should I do?"
What shall you as Data Center Planner do to avoid getting into such condition?
What Should I plan before I built data center?
Plan to have high availability, redundant and resilient core and distribution and critical piece of network in data center. Always try having redundant Routing Engines. With this you pursue a approach with minimum downtime.
What does ISSU stand for?
ISSU stand for "In Service Software Upgrade". This is meant for upgrading software of switches without affecting production services. In Service Software Upgrade significantly reduces the impact planned software upgrades and maintenance can have on service availability. The risk assessment criteria are also changed, since impact to users is much less than before.
What should be typical design for high available switch where ISSU can be used?
Following diagram highlights main component of high available switch to utilize benefits for ISSU. Switch have two Routing Engine (Processors) which provide you capability to switch over to backup Routing engine whenever there is problem or failure in Active Routing engine. This is taken care in Control Plane and Data plane remains un-impacted. It means line cards will not get impact of routing engine failure.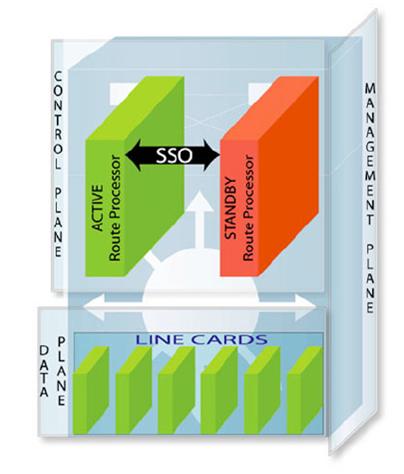 ISSU for Cisco iOS:
Cisco Supports and uses ISSU to provide you high availability and upgrade without any interruption. Cisco IOS 12.2SB and above supports ISSU provided hardware/platform you are using supports the same.
Following document guides and provide information related to ISS. It is recommended by Cisco to check for ISSU compatibility using Cisco Online compatibility tool.
http://www.cisco.com/en/US/prod/collateral/iosswrel/ps6537/ps6550/prod_white_paper0900aecd80456d57.pdf
ISSU for Juniper OS:
Juniper also supports ISSU and provides resilience towards any such hardware failures. Again hardware compatibility and OS
compatibility should be checked before ISSU is used.
http://www.juniper.net/us/en/local/pdf/whitepapers/2000280-en.pdf
General Recommendations:
Upgrade frequency needs to be considered for each component when designing a system for ISSU. If frequent microcode changes are not required for a particular component, the ISSU process could omit that component entirely. However, managing such a process would be difficult given the constant need to track which components should be included in which upgrades. In other cases it might only be necessary to upgrade one component. An example would be a software issue that needed to be fixed within the control plane.
Two basic questions need to be answered before deciding on an appropriate ISSU design:
What if some components of the forwarding path are not redundant?
If the new release does not change a given component, should that component be omitted from the ISSU design so the process completes without resetting it?
The answers to these questions depend on the software and hardware architecture of the system and the quality of the operating system development effort. An ISSU design is determined by the quantity and functionality of each component and the interdependence between components.
Conclusion
ISSU is vital tool in performing upgrades for enterprise and service provider networks. Study in detail about your environment and ISSU features supported by your hardware vendor. The selection of an ISSU design requires a comprehensive approach, one that considers the advantages and disadvantages of various permutations of redundant and non-redundant router architectures.
You can also keep up to date with current trends and technology by visiting Data Centre Talk where we keep you informed on important changes as they occur.