RagingWire Acquires 42 Acres of Land in Dallas-Fort Worth Metroplex with Plans to Build a One Million Square Foot, 80 Megawatt Data Center Campus
Construction to begin immediately on the first of five 180,000 square foot data centers in the 4thlargest U.S. data center market
Garland, Texas – September 10, 2015 – RagingWire Data Centers, the nation's premier data center provider and an NTT Communications group company, announced today that it has purchased 42 acres of land in the Dallas-Fort Worth Metroplex and plans to build a one million square foot, 80 megawatt data center campus on the site. Construction will begin immediately. Leasing of wholesale build-to-suit vaults, custom data center buildings, and retail colocation cages and racks is expected to commence by September 2016.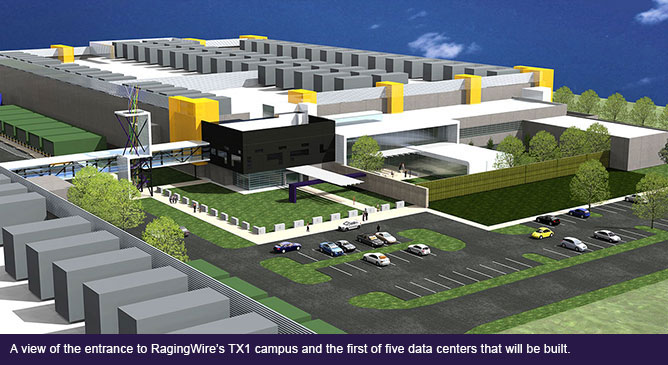 "We are thrilled to be entering the Dallas data center market, one of the top markets in the United States," said George Macricostas, Chairman and CEO of RagingWire Data Centers. "Our sincere thanks go to the great state of Texas and the city of Garland for their tremendous support. Together we will expand and enhance the data center sector in the region."
The 42-acre parcel of land is located in Garland, Texas, near other primary data center locations in North Texas including Richardson, Plano, and Carrollton. Data center customers will value the convenient location off of the President George Bush Turnpike (PGBT) in the heart of the telecommunications hub at the intersections of Campbell Road, Telecom Road, and Lookout Drive. The site is easily accessible from both the Dallas-Fort Worth International Airport (DFW) and the Dallas Love Field Airport (DAL), yet outside their flight paths. The city of Garland and Garland Power & Light have been particularly supportive of RagingWire's expansion, providing planning assistance, economic development incentives, and expert collaboration.
"Welcome to the city of Garland! We are pleased to present RagingWire with a 'digital key' to the city," said the Honorable Douglas Athas, Mayor of Garland. "We view RagingWire as a leader in the data center industry and a strategic addition to the business community."
RagingWire has nearly one million square feet of data center space providing 80 megawatts of critical IT power across its campuses in Northern California and Ashburn, Virginia. The company is recognized for delivering 100% availability and a world-class customer experience. RagingWire has been growing at 25% per year, twice the industry average, and in 2014 became part of the NTT Communications family of companies, making it one of the most financially strong companies in the data center industry. The new data centers in Garland, Texas will enable RagingWire to deliver seamless colocation solutions across the United States and as part of NTT Communications group's 12 data centers in the US and 140 data centers around the world under the "Nexcenter" brand.
"We did a thorough evaluation and are confident that Garland, Texas is the best place for RagingWire to open its new data center in the Dallas-Fort Worth data center market," said Doug Adams, Senior Vice President and Chief Revenue Officer of RagingWire. "With our site across the street from Richardson and just four miles from the Digital Realty campus, we are an ideal location for businesses requiring a data center footprint in the middle of the United States."
According to 451 Research, one of the top analyst firms covering the data center sector, Dallas-Fort Worth is the fourth largest data center market in the United States with 2.5 million square feet of data center space. The Dallas-Fort Worth data center market is home to 49 data center providers, and is growing approximately 13% per year.
"Texas is a business-friendly state, and the Dallas-Fort Worth Metroplex is a vibrant data center market, growing in both demand and supply," said Stefanie Williams, Associate Analyst, Multi-Tenant Datacenters for 451 Research. "RagingWire, with its 100% availability, mission critical operations, and superior customer experience, should find Dallas to be an excellent addition to its data center portfolio."
About RagingWire Data Centers
RagingWire Data Centers designs, builds, and operates mission critical data centers that deliver 100% availability and high-density power. The company currently has over 80MW of critical IT load spread across nearly 1 million square feet of data center infrastructure in Northern California and Ashburn, Virginia, with significant growth plans in both locations, Texas, and other top North American data center markets. As an NTT Communications group company, RagingWire is one of the most financially strong companies in the data center industry and is part of the global network of 140 data centers operated by NTT Communications as part of the NexcenterTM brand.
With customizable colocation environments and flexible designs for wholesale and retail buyers, a carrier neutral philosophy, extensive compliance, and the highest customer loyalty in the industry as measured by the Net Promoter Score®, RagingWire meets the needs of top internet, enterprise, and government organizations. The company's patented power delivery systems and EPA ENERGY STAR rated facilities position RagingWire as an industry leader in reliability and efficiency. More information is available atwww.ragingwire.com.