China Adds a Green Touch to its Developing Data Centers
China is all set to be the world's biggest computing infrastructure in the world that would provide large scale business opportunities to the country. It will be home to hundreds of large data centers capable of supporting a staggering online population of almost 500 million users.
The data centers are set to take on the increasing demand from telecom providers, banking sectors and any other overseas firm looking towards China to expand base. The government is backing up this growth by making it a part of their five- year plan. This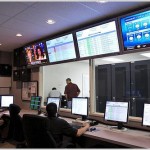 most certainly is turning heads of IT giants like HP and IBM.
After their failed effort at building data centers in the past, this time China is heavily relying on foreign firms for design consultation. Not only are they focusing on future growth in demand, they are also looking into cutting down carbon emissions by using the latest energy efficient equipments.
What's more, it is working with The Green Grid and Lawrence Berkeley National Laboratory to promote and develop energy efficient data center practices. Berkeley Lab scientists are sharing their best practices and case studies to help the country develop standards and training programs for its booming industry. The Green Grid is assisting with Power Usage Effectiveness (PUE), Water Usage Effectiveness (WUE), Carbon Usage Effectiveness (CUE) and the Data Center Maturity Model (DCMM).