Data Center Cleaning Fixes
If you thought cleaning was just dusting using a vacuum cleaner and a mop, think again. The task of cleaning a data center can't get any difficult. There is certainly no 'One size fits all' strategy that you can adopt when it comes to data center cleaning. There are innumerable devices and equipment to be cleaned and each type of equipment needs a different cleaning approach.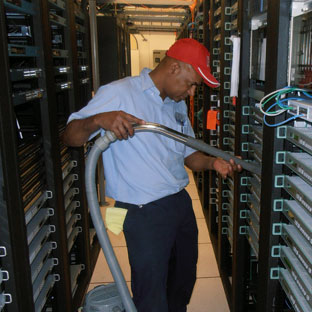 Cleaning the data centers is not just to revamp it to look like something other than a haunted house. A data center has to satisfy certain health regulations and follow some environmental aesthetics. Nobody likes to work in an environment that would leave them wheezing and coughing (except in coal mines, of course; but I don't think they like it either). A clean data center also performs more efficiently than an unclean one. Dust can even lead to short-circuiting and trigger fire alarms sometimes.
Data center cleaning does not just include dusting the dust off the server racks and cleaning the floor. If your data center implements raised floors, you also have to look into underfloor or sub-floor cleaning. The raised floors should also be resealed properly to avoid distress. If you are just moving into a new data center, it will require thorough post construction cleaning and sanitizing. Care should also be taken to check for and treat/ neutralize zinc whiskers. Other rooms such as the control room, computer room, and print room also will require regular cleaning.
The thing with cleaning, as you know, is not a one- time fix. Dust finds its ways to enter any room. Once you finish scrubbing the data center clean from one end to the other, it's probably time to go back and start all over again. You will have to hire staff exclusively for cleaning. And since it requires handling some high tech equipment, it is a safer bet for you to hire a professional cleaning company. Here are some for your reference: Mainline Computers, EnviroTec, Data Clean etc.
Data Center Talk updates its resources everyday. Visit us to know of the latest technology and standards from the data center world. Please leave your views and comments on DCT Forum.