Infographic Shows the State of the Data Center in 2011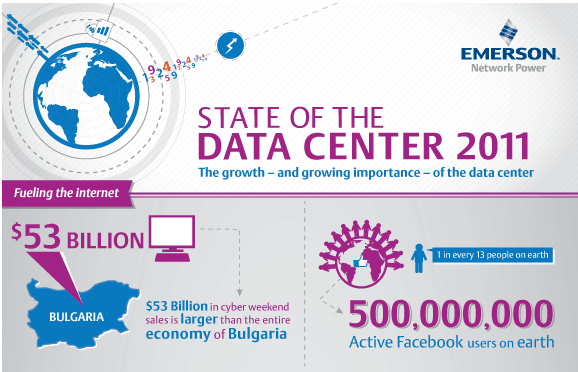 This year, mankind will create 1.2 trillion gigabytes of data, equivalent to 75 billion 16 GB iPods. There's enough data center square footage to fill 5,955 football fields. And every second 1,157 people start watching a YouTube video. These are all figures illustrated by a new infographic from Emerson Network Power that has captured the growing importance of the data center.Its
2011 State of the Data Center infographic
, Emerson shows the importance of data centers in the daily functioning of the Internet from basic search engine queries, to e-commerce purchases, and to connecting with friends on social media.
The sum of all , Cyber Weekend sales, for instance, totaled $53 Billion larger than the entire economy of Bulgaria.
All of these interactions are riding on data center infrastructure, and at the large scale illustrated by Emerson, reliability is more important than ever before, and downtime more costly. If the world's more than 500,000 data centers went out 2.5 times per year for 134 minutes — the average — it would cost the economy an estimated $426 billion a year — enough to buy every person in Munich, Germany, a yacht.
"Over the last several years, advances in technology, an increased reliance on the internet and social media as well as an increased focus on energy management initiatives have had a significant impact on the data center world," states Scott Barbour, business leader of Emerson Network Power. "Data centers are the unsung heroes. This infographic illustrates how our reliance on them has grown exponentially."