Green IT set for Increased Spending in 2012
The projection for 2012 is that many businesses are set to increase their spending budget on network infrastructure.
This increase could be as much as 10-25% for approximately 55% of businesses. This is great news taking into consideration the state of the global economy.
84% Business Investment in Green IT
CommScope recently conducted a European survey with results showing that 84% of businesses had invested in green IT in 2011 already. This investment has been done to improve the energy efficiency of their data centers.
49% Business Cost Efficient
Investing in green IT systems is seen as the most effective and efficient way for a business to save money.  Forty nine percent of the businesses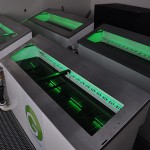 surveyed had cost efficiency listed as their main goal for 2012.
Achievement in 2012 Businesses
Another important objective to achieve in 2012 is for businesses to increase their Reliability performance.  Reliability issues were prominent during 2011 and these issues were normally caused by one of the following reasons:
Lack of network visibility
Technician errors
Power failures
To counteract this network managers are working on ensuring that their networks are more efficient, intelligent and robust. Businesses are not just looking for cheap solutions. Instead they are searching for quality solutions which include improving reliability issues and offering their clients great performance.
Ways to Go Green
Improving data center cooling methods – this consists of looking for energy leaks and reducing the amount of hot spots.
Reducing Energy Consumption – many data centers are now turning to using virtual servers instead of having dedicated servers for each job. One server is now capable of running many other servers and this greatly reduces energy consumption costs.
Increased Driver Capacity – storage needs are on the increase and this can be handled by using larger drivers with more storage capacity versus increasing the number of smaller drivers.
Improving Floor Layouts – many data centers are becoming outdated and one solution is to reconfigure the layout of the data center. The solution can be as simple as moving hot and cold aisles and making use of available outside air to help cool the data center. This helps to reduce energy costs dramatically.
Alternative Energy – many green data centers are using solar, hydroelectric, hydrogen fuel cells and nuclear power which greatly reduces costs. Even the simple step of turning off unnecessary equipment when not needed helps reduce power requirements and saves money.
The anticipated green up of IT centers in 2012 will definitely go a long way in helping the environment.
You can also keep up to date with current trends and technology by visiting Data Center Talk where we keep you informed on important changes as they occur.